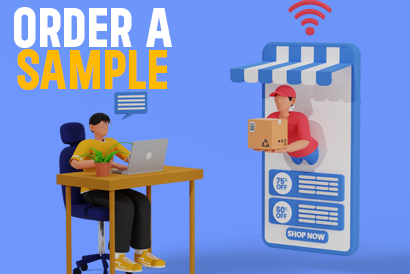 Why You Should Order A Sample For Your Dropshipping Store?
Ordering samples from your drop shipping company is a great way to increase your awareness and responsibility as a business owner.
Taking part in e-commerce requires the acquisition of a new set of skills and business sense to deal with digitally advanced interaction platforms. You should have a contingency plan in place in e-commerce as the risks are quite similar to those in offline businesses. It can be stressful and anticipatory to take a chance, but what are you doing if you don't? 
Drop shipping - what is it?
The e-commerce market has made it possible to have more kinds of business models and drop shipping is one of the most promising ones. Using this model, the seller does not have the products in stock before an order is placed and, once the order has been placed, outsources the delivery to a drop shipping company. When the product is shipped, the seller doesn't even see it and does not have ready stock.
Learn more about drop shipping -
Drop shippers: Why You Should Order A Sample First
No matter what position you hold within a company or in your own business, being careful is always a priority. Why? Because potential risks could have a large impact on you or your business.
When you drop ship, you are entrusting your drop shipper with the primary function of your business - production, and delivery.
Investing in a sample would be more beneficial than placing orders directly for your paying customers and bulk orders. You will also become more certain about a number of important things if you order a sample product.
A Sample Order Should Contain
You will be able to determine the quality of the product once you actually hold it in your hands.
You will be able to determine the customer's experience if you place yourself in their shoes and understand the entire process from their point of view.
As a result, all your questions about drop shipping will be answered. You will receive a personal tour of the fulfillment and shipment process when you drop ship.
By knowing what to expect in high-demand scenarios, and building a relationship with your drop shipper accordingly, you can determine if your drop shipper is trustworthy.
The products can be photographed by you and put up on your website, which would be great for marketing and branding.
To confirm the partnership, you will receive details on pricing, tracking, automated messages, branding, packaging, and more.
Here's how to order a sample
Check with your drop shipper first to see if they offer sample orders. Every drop shipper has different order placement methods. A lot of traditional manufacturers-turned-drop shippers may have some constraints on that, so it's best to clarify beforehand.
Inquire about the sample order process they use - by email, phone, website forms, etc. Look for any contracts they require for placing samples.
Check the prices of the products as well.
Drop shipping company Printchester has streamlined its sample order process to make it as simple and similar as placing orders for actual customers. Here's how Printchester sample order process works -
Step 1. Visit the Printchester website and register as a merchant. Log into order samples for dropshipping or e-commerce stores
Step 2. Your Merchant Panel Dashboard is where you will manage every single aspect of your drop shipping business like design, orders, revenue generation, etc. By default, the account is created on the Free plan. In the merchant panel dashboard, you can see drop shipping aspects such as design, orders, and revenue generation.
Step 3. Click "Create Your Own Order" on the left side of the screen. Printchester allows you to create orders for your dropshipping store online.
Step 4. You have to fill in all the details of the product, the design, and the number of items you want in the "Create Your Order" section.
While creating an order at Printchester, fill in the details of the product. While placing an order, select the category and other details of the product.
Step 5. Place your order and keep track of the shipment in the "Manage Your Orders" section. Pay for the product and shipping costs when placing and order. After placing and order, you can track your shipping information.
Printchester sample order placement process is the same as the order placement process for your customer. The only difference is the pricing.
A Merchant account is activated with Rs. 5000, and then you can place an order and access the wholesale price, which is obviously lower when you activate your account with Rs. 5000.
Before joining Printchester or any drop shipper company as a Seller, we suggest testing their processes and products. To determine whether you are satisfied with the experience, you must first order a sample and check for all the points we mentioned. Once you are satisfied, you can activate your Merchant account and place orders immediately.
Your drop shipper is the major machine for your business, so your relationship with them matters first.
The drop shipping process and checking for sample products for your e-commerce store can now begin.